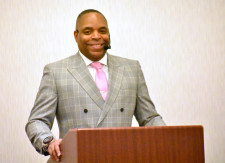 LOS ANGELES, March 19, 2021 (Newswire.com) - Today, Wall Street investors and traders alike have seen extreme amounts of volatility in both gaming and tech stocks. As many newbie investors have learned, volatility is not always the best thing for your stock market portfolio.
"In today's stock market, educated investors don't need to find a stock trading at $2 a share and hope it rises to $100 per share. Rather, the goal should be to choose stocks whose quarterly revenue has just started to rise," says Tyrone Jackson, creator and founder of the Wealthy Investor program.
The Wealthy Investor program has helped investors around the world increase their stock market education and make better trading and investing choices.
At the end of every quarter, Mr. Jackson posts an easy-to-follow stock market review where he analyzes both the S&P 500 and the Dow Jones Industrial Average.
You can view this tutorial lesson by going to https://thewealthyinvestor.net/hotstocks2021/
These days a lot of new investors think that having a commission-free trading account will help them with making smart long and short-term investments. In reality, it's your financial education and your overall knowledge of the stock market that will increase your long-term success. Respected Wall Street analysts agree that retail investors who are educated on the economy and the stocks they choose seem to experience the most success.
Once again, click here to view Tyrone Jackson's easy-to-follow quarterly tutorial on Dow stocks and the S&P 500.
Source: The Wealthy Investor
Share: