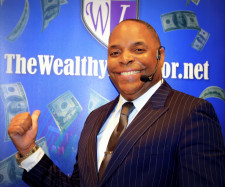 LOS ANGELES, June 28, 2022 (Newswire.com) - Financial advisors and stock market experts agree that successfully investing in today's stock market requires patience, an eye toward future growth and a belief that one's favorite stock will rise due to increased annual revenue. To be successful in the stock market, investors will need a strong financial education.
"What makes today's market a bit challenging is that it requires that we pay attention to a company's fundamentals," says Tyrone Jackson, creator and founder of the Wealthy Investor program. Jackson adds, "The right financial education will increase the chances of stock market success for both you and your family."
In episode 181 of the Trading Stocks Made Easy podcast, Jackson discusses how to choose the right stocks to build a family legacy. Listen to episode 181 of the Trading Stocks Made Easy podcast by going to https://www.thewealthyinvestor.net/tsme-181.
The Trading Stocks Made Easy podcast is heard by investors around the world, and viewed by many as their number one stock market trading educational resource. In The Wealthy Investor program, Tyrone Jackson teaches stock market strategies that have been proven over time, such as covered call writing, volatility trading and dividend collection.
Experts agree that in today's market, understanding a company's fundamentals will increase the chances of investing success.
Once again, click here now to listen to episode 181 of Tyrone Jackson's Trading Stocks Made Easy podcast and learn step by step how to take stock trading skills to the next level.
Source: The Wealthy Investor
Share: