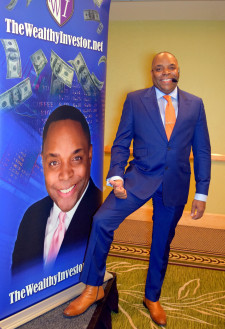 LOS ANGELES, February 9, 2021 (Newswire.com) - These days, opening an online trading account is easy but choosing the right growth and tech stocks is a skill.
The stock market has recently demonstrated how easy it is for a misinformed investor to choose a volatile stock that rises in share price and then quickly declines in value.
"Without the right financial education, it's easy for retail investors to get caught in volatility traps," says Tyrone Jackson, creator and founder of The Wealthy Investor program.
Jackson goes on to say, "Learning how to trade and invest in stocks that have both top and bottom line revenue growth is a skill that must be learned if you wish to be successful in today's stock market."
In episode 139 of the Trading Stocks Made Easy podcast, Jackson discusses how to choose the best tech and growth stocks in 2021. Listen to episode 139 of the Trading Stocks Made Easy podcast by going to https://thewealthyinvestor.net/techandgrowthstocks2021/.
The Trading Stocks Made Easy podcast is heard by investors around the world and viewed by many as their number one stock market trading educational resource. In The Wealthy Investor program, Tyrone Jackson teaches stock market strategies that have been proven over time such as covered call writing, volatility trading and dividend collection.
Although certain stocks in the tech sector have exploded over the last five years, now, more than ever, a stock market financial education is something today's retail investors can't afford to live without.
Once again, click here now to listen to episode 139 of Tyrone Jackson's Trading Stocks Made Easy podcast.
Source: The Wealthy Investor
Share: