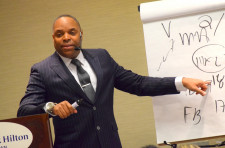 LOS ANGELES, January 7, 2021 (Newswire.com) - These days having an online trading account at Robinhood, TD Ameritrade and/or E*TRADE is not enough to be successful in today's stock market. Investors also need a strong financial education.
"With solid trading strategies and tools, most people can trade stocks successfully from home," says Tyrone Jackson, creator and founder of The Wealthy Investor program. Jackson adds, "Over the last year, the stock market has seen explosive growth in the tech sector. However, the key to being a successful investor lies in knowing which stocks to buy, sell or hold over the next six months."
In his free Trading Stocks for Wealth e-book, Jackson discusses strategies that will help one succeed whether the stock market is bullish or bearish.
Download a free copy of Trading Stocks for Wealth by going to https://thewealthyinvestor.net/freestockmarketebook/.
The Wealthy Investor program has helped investors around the world and is viewed by many as their number one stock market trading educational resource. In The Wealthy Investor program, Tyrone Jackson teaches stock market strategies that have been proven over time, such as covered call writing, volatility trading and dividend collection.
Experts agree every retail investor would benefit greatly from not just having an online trading account but from having a solid stock market education.
Once again, click here now to download a free copy of Tyrone Jackson's Trading Stocks for Wealth and learn step by step how to take stock trading skills to the next level.
Source: The Wealthy Investor
Share: