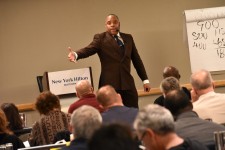 LOS ANGELES, May 12, 2020 (Newswire.com) - One of the skills that full-time professional traders acquire is how to trade stocks when the S&P 500 is bullish, bearish or neutral. All too often, many retail investors are at their best only when the stock market is bullish.
To the delight of investors everywhere, the Dow Jones Industrial Average and the S&P 500 advanced significantly from 2016 to 2019. However, that was not the case from Feb. 15, 2020, to April 1, 2020.
"Part of being a skilled retail investor is knowing how to trade regardless of the market's direction," says Tyrone Jackson, the founder and creator of the Wealthy Investor program. Jackson goes on to say, "Skilled traders know how to be successful whether major indexes are advancing or declining."
In episode 122 of the Trading Stocks Made Easy podcast, Mr. Jackson discusses non-directional trading. One of the key tenets of the Wealthy Investor strategy is making money when stocks go up, go down, or stay the same.
You can listen to episode 122 of the Trading Stocks Made Easy podcast by going to https://thewealthyinvestor.net/nondirectionaltrading/
For the retail investor, long-term stock market success will require a financial education, strategies that have been proven to work over time and learning how to structure your trades for any outcome.
Source: The Wealthy Investor
Share: