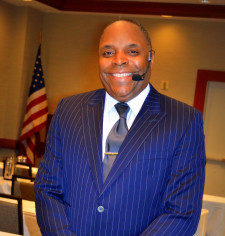 LOS ANGELES, November 30, 2022 (Newswire.com) - Inexperienced stock market traders and investors can lose significant amounts of capital when greed trumps discipline. However, with an open mind and a financial education emphasizing discipline and patience, anyone can become a successful stock market trader and investor.
"Yes, your online trading account does give you access to Wall Street, but it doesn't tell you which strategies to employ in certain market conditions," says Tyrone Jackson, creator and founder of the Wealthy Investor program. Mr. Jackson goes on to say, "These days, retail investors can write covered calls, volatility trade and collect dividends, exactly like institutional traders."
With over 20 years of experience, Tyrone Jackson is viewed as one of the most respected stock market educators in the digital trading community. Jackson has over 60,000 Facebook followers and 50,000 YouTube subscribers and has been featured on YahooFinance.com and Morningstar.com.
In episode 189 of the Trading Stocks Made Easy podcast, Mr. Jackson sits down with his long-time student, Andre Blake, who discusses how the Wealthy Investor program changed his limited money beliefs and helped him make the commitment necessary to create a financial life bigger than he ever imagined. You can listen to episode 189 of the Trading Stocks Made Easy podcast by going to https://www.thewealthyinvestor.net/tsme-189.
The Trading Stocks Made Easy podcast has been downloaded over 1.2 million times and is heard by investors around the world. Many traders view Tyrone Jackson's Trading Stocks Made Easy podcast as their number one stock market trading educational resource. Once again, you can listen to this podcast episode by visiting https://www.thewealthyinvestor.net/tsme-189.
Successful retail investors know that discipline and patience are the key to achieving all stock market goals.
Source: The Wealthy Investor
Share: